The easiest way to share your passion is by becoming a CHA Ambassador!
All ambassadors receive a welcome packet with promotional materials, an annual report each January, an adoption discount, as well as exclusive CHA insights and tools to further advocate for our shelter pets. As an exciting addition to the welcome packet for 2021, enjoy a free night at a Red Roof Inn or Red Roof Plus+ location nationwide courtesy of our Corporate Sponsor! All ambassadorship levels are valid for the calendar year 2021 with the exception of Lifetime.
Please Note: The CHA Ambassador Program has replaced the previous CHA Membership
Program. Ambassadors who enroll now will be included for the 2021 year. Welcome packets will be mailed out January 2021.
For more information on how you can help the dogs and cats of CHA Animal Shelter, visit our Volunteer and Fundraising pages.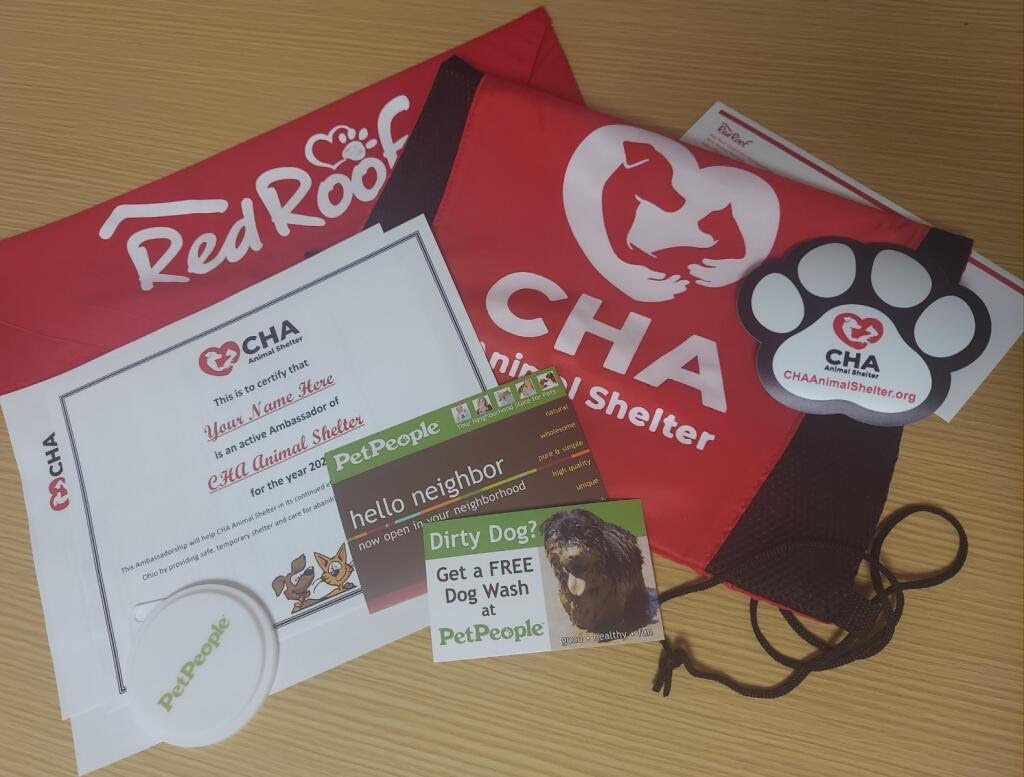 Ambassador levels:
Individual ($50)
2021 Welcome Packet
Adoption Discount
Family ($100)
2021 Welcome Packet
Adoption Discount
Individual membership certificates for all family members
Lifetime ($500)
Recognition on website and in-shelter
Adoption Discount
Discount on individual Paws to Party tickets
Annual Lifetime Membership packet
All current Ambassadors are invited to attend the annual meeting of the Board of Directors which will take place on March 10th at 6:30pm via Zoom and each Ambassador will have the opportunity to vote to confirm the members of the Board. If you are an Ambassador and would like to attend, please email Kelsey@chaanimalshelter.org. If unable to attend but you would like to vote, email Kelsey to receive a ballot.
Kathy Casaday
Dan & Robin Field
Angela Shen & Kentaro Fujita
Laureen Gachowski
Patricia Hoyer
Ed Thomas & Donna Maibaum
Kara Markham
Chris & Loribeth Martin
Nancy & Alan Perlman
John Pryba
Anne Riley
Katie Stenman
Stacey Wideman
Lisa Yellen