The easiest way to share your passion is by becoming a CHA Ambassador!
Membership dues from the ambassador program are used to offset the costs of housing, veterinary treatments, and general care for the animals at CHA Animal Shelter. We invite you to join us in spreading the word about CHA's mission, the services we offer the community, and the adoptable animals in our care. Your assistance is invaluable and by becoming an ambassador, you are directly supporting the dogs and cats who need your help the most.
Your tax-deductible ambassadorship donation includes:
An annual report each January
An adoption discount
Monthly emails with exclusive CHA insights and tools to further advocate for our shelter pets
Opportunities to take part in exclusive activities such as recommending names for CHA pets and sponsoring CHA pets
Discounted event tickets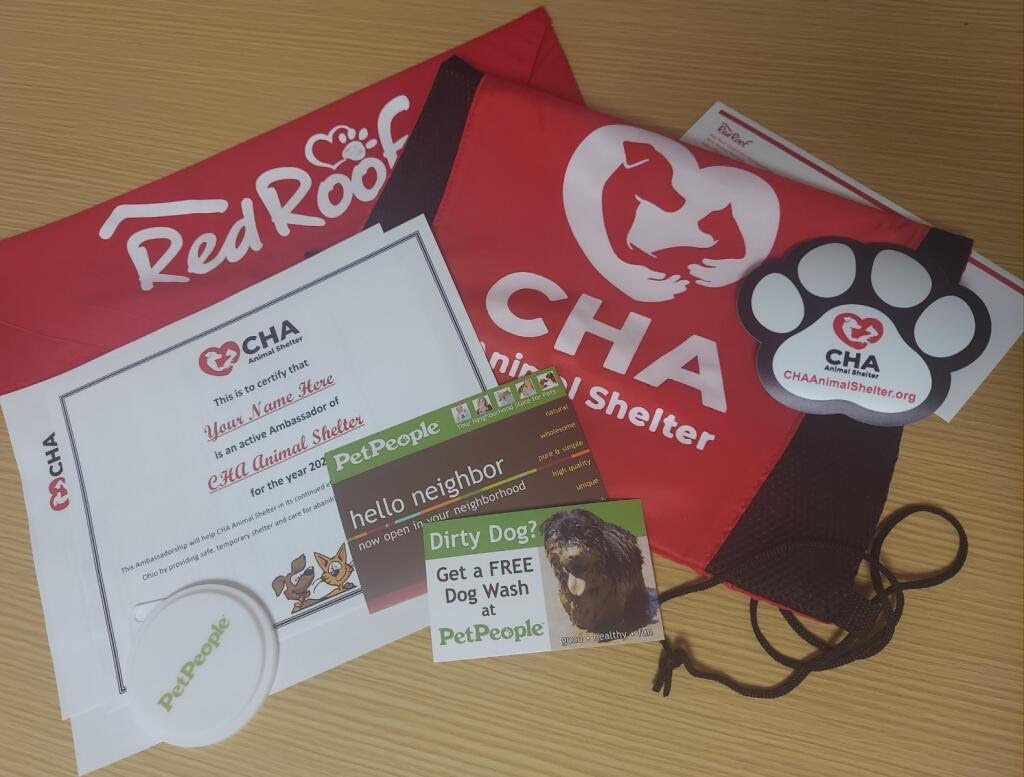 All ambassadorship levels are valid for one calendar year with the exception of Lifetime - sign up now to become an ambassador for 2023. Want to give the animal advocate in your life the gift of CHA membership? Select the payment option "Gift An Ambassadorship"!
For more information on how you can help the dogs and cats of CHA Animal Shelter, visit our Volunteer and Fundraising pages.
Ambassador levels:
Individual ($50)
2023 Welcome Packet
Adoption Discount
Family ($100)
2023 Welcome Packet
Adoption Discount
Individual membership certificates for all family members
Lifetime ($500)
Recognition on the website and in-shelter
Adoption Discount
Discount on individual Paws to Party tickets
Annual Lifetime Membership packet
Kathy Casaday
Dan & Robin Field
Angela Shen & Kentaro Fujita
Laureen Gachowski
Patricia Hoyer
Brady Reynolds
Joanne Torrey & Tom Hunt
Jackie Sellers
Marty Connell
Angie & Dave Eckerle
Ed Thomas & Donna Maibaum
Kara Markham
Chris & Loribeth Martin
Nancy & Alan Perlman
John Pryba
Tina Zahn
Patricia Harmon
Theresa Franckowiak
Shauna Hindman
Anne Riley
Katie Stenman
Stacey Wideman
Lisa Yellen
Regina Foust
Karen Squires
Maria & Luther Johnson
Sean Thornton
Julia Mathias