Ways you can help at CHA Animal Shelter...
In Shelter Work
Care for and socialize with the animals
Assist with maintenance and upkeep of the shelter
Assist potential adopters with meeting the adoptable animals
Fundraising
Plan and participate in fundraising functions
Contact businesses for donations of items or services
Spread the word to the public about our fundraising events!
Office work
Administrative
Perform adoption follow-ups
Filing and paperwork
Data entry for animal records into PetPoint
Help with special events at the shelter
Fostering
CHA Animal Shelter has a foster program that allows our volunteers to house animals with special needs on a temporary basis in their homes. This program allows CHA pets to recover from medical conditions, grow to a healthy and adoptable age, or just get relief from the stress of the shelter in a caring environment. The Foster program is open to all CHA volunteers. If you are unable to volunteer regularly with CHA Animal Shelter but are interested in providing temporary care and shelter to animals in need, you can begin the process to become a foster parent by attending a brief training and orientation. For our foster application, click here!
Matching Gifts
Does your employer offer matching gifts for donations or volunteer hours?
Matching gifts are donations made by a donor's employer. Many employers will
sponsor matching gifts. In this case the employee (donor) makes a donation of a
certain amount and then their employer will match that amount. The percentage
varies from employer to employer but the most common matching amount is
100%.
General guidelines for submitting a request
Contact your human resource office to determine if your company participates in matching gift programs. Participating companies may have a specific matching gift office. If a matching gift office is not available, your human resource department should be able to get you started.
If you need help along the way, contact our Executive Director, Kelsey Smucker, at
kelsey@chaanimalshelter.org.
A list of companies that participate in matching programs can be found HERE.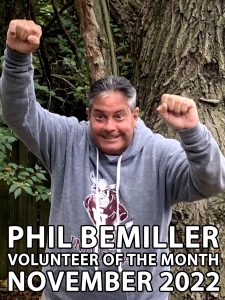 Phil BeMiller
What can you be found doing when you're not at CHA?
Work keeps me busy. As a regional director for Regal Hospitality, I oversee the sales and marketing teams for 6 hotels across the country. I have properties in New Mexico, Ohio, Wisconsin, and New Jersey. Each market is unique and different which keeps my job fresh and exciting. In my free time, I enjoy taking our four dogs to various parks and trails with my wife. As one might imagine, they keep us quite busy. Also, an avid fan of all Indiana University sports, the St. Louis Cardinals, the Indianapolis Colts, and of course the Columbus Blue Jackets and Crew.
What do you look forward to most when coming in for your shift(s)?
CHA is incredibly fulfilling to me. I am a huge advocate for rescue animals. Every time that I volunteer I feel like a made a difference, if only for a few hours, in these dogs mental and physical well-being. To see them so excited and happy is a special feeling. And, of course, helping the shy and timid ones come out of their shell is so heartwarming. As important, everyone I have encountered, from my regular shift to substitute shifts to special events have been fantastic. Everyone is there for the same reason and the comradery is exceptional.
Have you adopted an animal from CHA? If so, tell us the story!
Yes, I have adopted 3 dogs from CHA. Our first was about 3 years ago. We adopted two very, very overweight senior beagles that had to be adopted as a pair. We were fearful that they would spend their last years living in a shelter so we decided to adopt them. Our other dogs immediately accepted them as part of the family. They both were able to lose about 20lbs and their activity increased substantially. So cute to see. In February, we lost one of them to cancer. Over the summer we decided we wanted to add another. My wife was sold on getting one of the beagles from the Virginia research facility that were rescued. However, one Sunday I volunteered to do a special event at Pins Mechanical Easton. The dog I was asked to take was Plato, a beagle. He had been returned twice previously. We immediately fell in love with him during the event and upon taking him back, went in and adopted him. He is now firmly a part of our family.