CHA Community, we need your help!
On Thursday, a litter of 5 puppies arrived at CHA and two tested positive for Parvovirus on intake (3 initially tested negative). The 2 positive puppies were immediately sent to Annehurst Veterinary Hospital and the other 3 were immediately isolated at CHA for close monitoring. Due to fast action, these puppies were thankfully isolated the entire time at CHA and they did not come into contact with our other dogs. We are hopeful that the early diagnosis and proactive treatment we were able to begin for the symptomatic pups will have a positive effect on their recovery.
On Saturday, a puppy at Annehurst began to have worsening symptoms so we opted to transfer this puppy to OSU for 24-hour monitoring. Another puppy also ended up being transferred to Medvet Columbus on Saturday for closer monitoring.
Today, some of our little "nut" puppies are on the move! The OSU puppies (including Macadamia in the video) and our Medvet puppy were able to be transferred to VCA Westerville East where they can maintain close monitoring. Our 2 puppies at Annehurst are doing great and should be able to move to a foster home to finish out their quarantine and outpatient care in the next day or two.
Thank you for your ongoing support! Our Medvet puppy's stay has further increased our expenses for this litter and every donation to the Emergency Medical Fund is appreciated.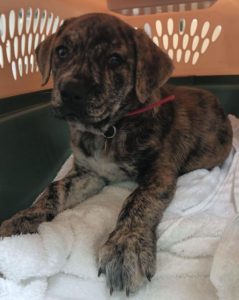 When you make a donation to CHA Animal Shelter's Emergency Medical Fund you are helping CHA care for dogs or cats with medical conditions that require a little extra time, attention, care, and finances. Each case that comes to us is unique – orthopedic issues such as broken bones or sprains, complicated and sometimes emergency surgeries, pets with heartworm disease, and much more.
We can only help these pets due to kindness and support from the community. We can't thank you enough for your compassion and generosity.
Below are just a few of the dogs and cats who have been recipients of the Emergency Medical Fund. Click to read their stories.